THE DRAPERY NARRATIVE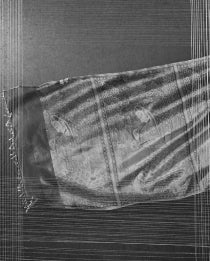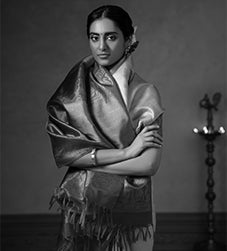 Whatever the language, the discernment of a sari transcends borders and time. The stories our mothers, grandmothers, aunts and countless other women weave when they drape this unstitched fabric are striking. Generations of narratives are woven into a sari and the quintessence of Drapery lies in the heart of these moments.
Drapery is a design house that pays homage to this humble fabric that assumes traditions and modernity, adds elegance and spirit, and relays countless stories. We, at Drapery, believe in novelty and our products with its pronounced designs on bold fabrics stand testament to this. The foundations of our artistry characterize the timeless style, culture and significance of a sari.
This novelty extends to our methodology and production too and here at Drapery, we believe in upskilling weavers. Our weavers are well versed with cutting edge technologies and are redefining the craft- lending our saris a nonpareil purity and style.
We talk to heritage and modernity at the same time. We are the modern retelling of the classics. We are a collective that believes in representing the aura of the strong, free-spirited and pioneering women. We weave our own creations for you and the countless stories you will create and pass down.
THE KEEPERS OF ARTISTRY
As E.Selvan Silks and Sarees, we specialize in manufacturing, selling and distributing exclusive silk saris. Straight from the source, our saris are made accessible to the public directly, through Drapery, our own design line.
Our firm has been in existence since 1991 and has been at the helm of numerous groundbreaking concepts such as:
Replicating the Mona Lisa Smile on a silk sari in 1995
Creating the longest silk sari in 2005
Our Director, E Selvan has been lauded through the years for several of his achievements. From receiving the 'The Swarovski Annual Master' weaver of the year award in 2011 to being presented a Doctorate from People's University of Milan for his contribution towards the Indian Textile Industry in 2014, our director has always been on the lookout for opportunities to keep revolutionizing the silk industry in India.
Since its inception in 1991, E. Selvan Silk and Sarees has stoodfirm in promoting "Handloom Fabrics" and has been working withthe Handloom weaving community.And with this conviction,Drapery was envisaged.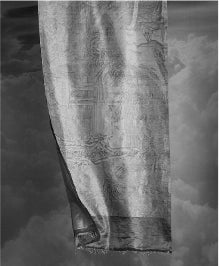 OUR PROCESS
What seems like a long piece of unstitched fabric, is in actuality, a result of hours and hours of thought and skill working hand in hand.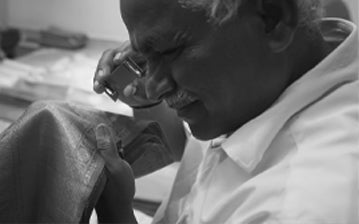 Once the raw materials are assembled, it takes anywhere between 10 - 15 days to weave a Kanchipuram sari. Before implementation, all our designs are tested and only after it is successful, the design is contrived.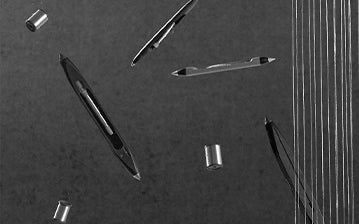 We are equipped with state-of-the-art looms that places emphasis on weaving efficiency. This makes it easier for the weaver to execute new designs and unattainable patterns otherwise, on to the silk.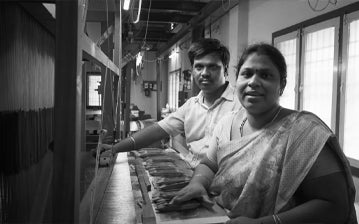 Our machinery, while consisting of fine weaving practices, exclusively manufacture saris for Drapery. We also nurture and train each one of our weavers to handle the machinery. Each of our looms requires 2 weavers to operate it for high efficiency.